Fly Fishing in Dahlonega, Georgia: Q&A with Daniel Bowman
Fly fishing in Dahlonega is some of the best in the southeast. You'll definitely want to make it a priority the next time you stay in Dahlonega. Long Mountain Lodge is excited to announce a partnership with Daniel Bowman and his company Bowman Fly Fishing, North Georgia's premier fly fishing guide service.
We have added packages for beginners and avid fishermen – an instructional clinic which you can book separately or in combination with a half day on the water. Guests of the lodge can book half days of fly fishing as a stand-alone package on either local trout steams or on private trophy water.
To kick things off, we figured it'd be fun to do something never done before on the blog: a Q&A. So, I sat down with Daniel so you could get to know him and a little bit more about what makes fishing in Dahlonega and the surrounding areas special.
Thanks for taking time out of your busy schedule to sit down with me.
Daniel Bowman: My pleasure.
Let's get right to it. So, how did you get started fishing?
Daniel Bowman: I started fishing really from the time I could walk. My father was a professional bass fisherman growing up, and it transferred to me at a young age. For me fly fishing didn't start until I was at least 11 or 12 years old when I'd go out and fly fish for bass, and bream and people would always question why I wanted to get out there and wave around that big long whip rod for.
When do you get the crazy idea that you could actually make a living fishing?
Daniel Bowman: It was when I was 13. My parents got me and one of my friends a guided trip down the Chattahoochee River below Buford Dam for a half day to go learn to fish down there, and at the end of the day I remember getting out of the boat and kind of looking at the guide and thinking about the day we had and said, "Man, you can actually get paid to do this? This is awesome!" It was all downhill from there.
Awesome. So, what were your steps into getting into the industry? What did that look like?
Daniel Bowman: The first step to really getting into the industry is to just fish a lot. To really just become a part of the culture of fly fishing.
For me when it really started was senior year of high school I went out to a fly fishing guide school in Montana called Sweetwater Guide School and spent a week out there. From there I went onto Alaska where I spent two seasons working on a Lodge and then coming back to Georgia to guide.
So, after fishing and guiding in these kind-of "Fly fishing Meccas," so to speak, you came and decided to settle in North Georgia. Why?
Daniel Bowman: Well, for me a big part of it was family. This is where I'm from and this is where all my family is. But also there is a huge emerging fly fishing community around North Georgia, really even from North Atlanta all the way up through the rest of the state and into the rest of the southeast. So, I knew it was a good place to be because one there is great fishing. Also, I knew that there's a lot of great things happening in the world of fly fishing and it was pretty awesome be a part of that and part around for the start of it.
From your Instagram page, it appears that the fishing has been pretty great lately.
Daniel Bowman: Yeah, it has! We've been catching some huge fish. A lot of those big guys have been pulled out of the undisclosed private waters that we take people to in the trophy trout package. Your father-in-law caught an enormous rainbow on one of my trips just the other week.
Oh, man. Was I jealous!
So, you're currently living in the Dahlonega area. What are your top five fly fishing spots, let's say, within an hour's drive of Dahlonega/Lumpkin County.
Daniel Bowman: So, I would say the best place to go within an hour of Dahlonega would for sure be Rock Creek for one. Cooper's Creek is another. Both of those are pretty small streams and great places to go fish. Then there's the upper Etowah River. There's Dick's Creek and Boggs Creek. We'll keep the secret spot we take folks to in the fly fishing package off of there.
Oh, yeah. We're definitely not going to include ________ in the transcript. So, we'll note that this list doesn't list some of your secret spots that are featured in the LML fly fishing Package.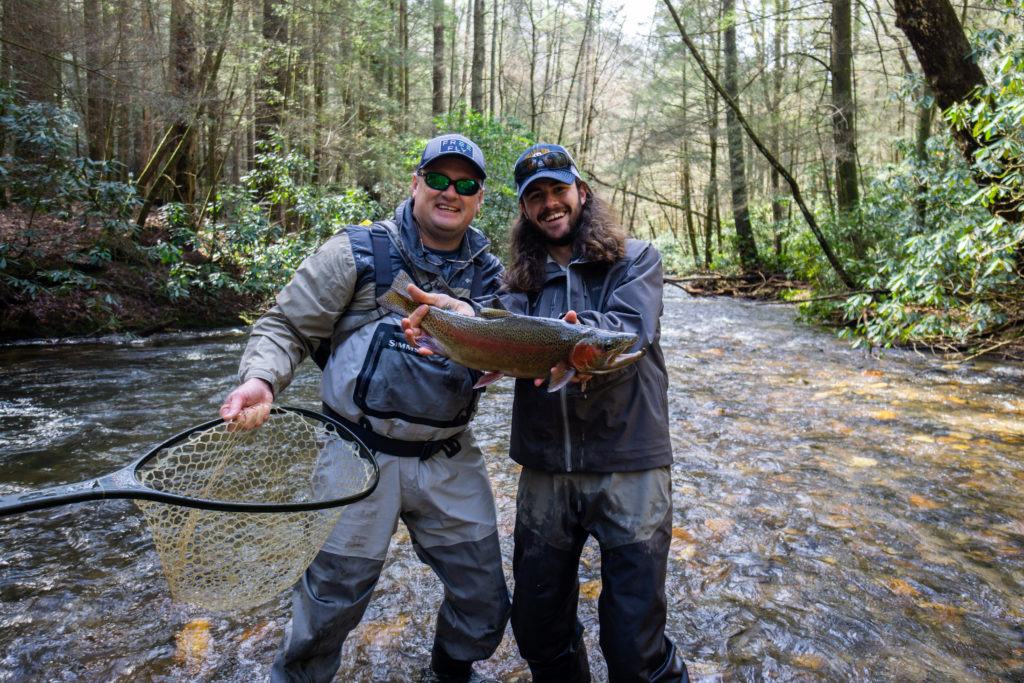 Ok. So, let's do your top 5 flies for spring:
Daniel Bowman: You've got the Pat's Rubber Legs.
That's the one that we fished that one day on the Toccoa.
Daniel Bowman: Mmhmm.
Okay. So, Pat's Rubber legs.
Daniel Bowman: The fly formerly known as prince.
*laughs* I've seen that one. So, that's just a variation of the prince nymph?
Daniel Bowman: Yup. Exactly.
So, you'll do that behind one of the larger stoneflies or something?
Daniel Bowman: Behind the Pat's Rubber Legs or San Juan Worm or something like that. Which reminds me: the San Juan Worm is always a good one to have.
What color?
Daniel Bowman: Pink. Fluorescent Pink is always the way to go.
Okay
Daniel Bowman: Flashback Pheasant Tails and Size 14 Black Caddis.
I've caught so many of those wild brook trout in Panthertown, NC on those black caddises.
Daniel Bowman: Yeah, man. They love it.
In summary, here's Daniel Bowman's top flies for spring fly fishing:
Pat's Rubber Legs

Fly Formerly known as prince

San Juan Worm- pink

Flashback pheasant tail

Size 14 black caddis
Alright. What about summer and fall?
Daniel Bowman: You're looking more at dry flies. Parachute Adams. Any kind of adult caddis patterns. Different grasshoppers. Hoppers and beetles.
Big ones, small ones?
Daniel Bowman: Medium ones. Really across the board. Still a lot of your same pheasant tails and soft hackle.
Here are Daniel's top flies for summer & fall:
Parachute Adams

Adult Caddis patterns

Grasshoppers

Pheasant Tails/Soft Hackle

Beetles
Okay. What about winter?
Daniel Bowman: For winter, it's going to be small flies.
Daniel's pick for winter fly fishing:
Zebra Midges

Rainbow Warriors

Quill Body Nymphs

Small Egg patterns

blue wing olives
What makes Dahlonega and the surrounding areas special for fly fishing.
Daniel Bowman: I think it's the abundant different kinds of fishing. You've got the striper and shoal bass of the Chestatee. You've got the wild small trout of all the streams up in the National Forest. You also have the bigger rivers like the Toccoa or even larger creeks, like Dick's Creek, where it is a little bit different feel. A little bit bigger water. A little more of your typical Western-style fly fishing, as opposed to beating through the laurels as much as we're used to around here.
So you've got a wide range of great fishing ranging from striper to brook trout within an hour's drive at the most from downtown Dahlonega.
So, what excites you about your partnership with Long Mountain Lodge.
Daniel Bowman: Long Mountain Lodge embodies a lot of the same values that we do. Like going the extra mile to provide a great experience. I think these newly launched fly fishing packages are an example of that. From having Big Spring Trout Pond where you can literally wake up, have a cup of coffee, go learn to fly fish, have an amazing breakfast, and then leave straight from there and go hit the water.
Tell me a little bit about your experience with the Long Mountain Lodge breakfast.
Daniel Bowman: Oh, man. How do I even begin? The fantastic, what is it? Yeast waffle? I described it as having two miniature crepe sandwiches stuck together. It's just sweet deliciousness. The best breakfast in Dahlonega. For sure.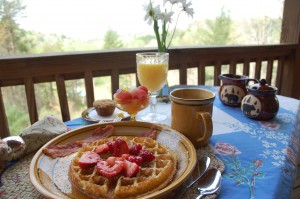 A lot of folks are kind-of intimidated by fly fishing. It looks like ballet. It looks really difficult—like something that the beginner and novice wouldn't be able to do. Is that fear founded?
Daniel: I think that when everyone comes out they think they have to be Brad Pitt in River Runs Through It, shadow casting 50 feet of line, when in reality it's not like that.
It can be as easy or as difficult as you want to make it, but everyone that we teach to fly fish for the first time always walks away surprised by how easy it was to catch on and how quickly they were able to be effectively fly fishing.
Like anything there are different ways to approach it and different techniques to it, but as far as getting to to the point of being able to consistently catch fish, it's not as hard as people might think.
When folks book a package all they really need to bring is a desire to learn to fly fish.
Daniel Bowman: Absolutely. Well, that and a fishing license, which you can get online, at your local outdoor store, or even Walmart.
Where would you point a beginner interested in learning more about fly fishing?
Daniel Bowman: Soon we're going to have some great video resources through my YouTube page that'll teach you some of the basics, so be on the lookout.
What about a good website to locate some of North Georgia trout streams?
Daniel Bowman: The Georgia Department of Natural Resources website has a fantastic interactive map. Not to mention that it also has weekly stocking reports, and a list of all the regulations related to trout fishing.
Well, Daniel, I'd like to thank you for your time today.
Daniel Bowman: Thanks for having me. I'm really excited about this new partnership with Long Mountain Lodge.
Well, there you have it folks. It was a great opportunity talk to him about fly fishing in Dahlonega and the Lodge's new fly fishing package with someone who is widely regarded as the best fly fishing guide in Georgia. For those of you even remotely interested in fishing, this package is going to be fantastic.
Daniel and his team of guides are great teachers and will meet you where you are and patiently work with you to get you catching fish on the fly.
Call us with questions. You can add this package as an extra when book your accommodation!